We asked Ryan Edwards, Head Chef at Artisans of Barossa to suggest a match to the Plexus White, and boy did he come up with the goods with this recipe.
Tried and tested by the team it gets two thumbs up (or four if you count the combined total!)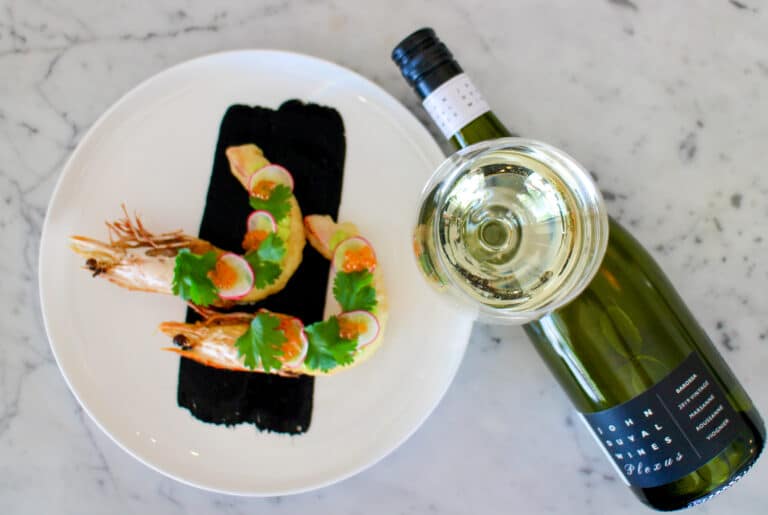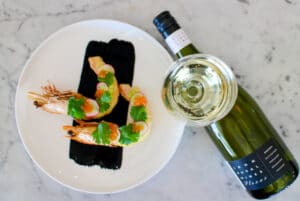 Tempura Spencer Gulf King Prawn, avocado, fingerlime, radish, brook trout roe.
8 large spencer gulf king prawns, shell removed with tail tip and head left on
100g plain flour
50g cornflour
1 egg white
soda water
sea salt flakes
oil for frying
1 ripe avocado
3 desert or sunrise limes
1 tsp glucose
1 tsp olive oil
pinch of salt
3 breakfast radishes
1 bunch coriander
trout roe or salmon roe
Mix together the plain flour and the cornflour, add the egg white, then add just enough soda whilst mixing gently with a fork until it looks like thick lumpy paint. Don't worry about the lumps you don't have to get them all out. Place batter in the fridge until ready to use.
In the meantime, remove the skin and seed from the avocado and remove the flesh from limes. To do this cut limes in half lengthways and scrape out the flesh with a teaspoon, you may at this point need to remove some seeds. Then blend or whisk avocado, lime, glucose, olive oil and salt until smooth.
Next, slice radishes with a sharp knife or a mandolin into rounds, place them in ice water to make them extra crisp. Pick and wash some coriander leaves.
Heat oil to around 165C, if you don't have a thermometer, add a few drops of batter and see if it bubbles and floats straight away. Dip your prawn's tails first into the batter but only up to the shell, then place gently into the fryer and cook for around 5 minutes until the batter looks crisp and the heads look cooked. Remove and dry on pa
per towel, season with sea salt.
Let cool for just one minute then top with avocado puree (suggest using a piping bag), radish slices, coriander leaves and roe. Serve as 2 for an entree with a chilled glass of the Plexus MRV.