Vintners Bar & Grill has been a local institution for 20+ years with Head Chef Pete Clarke at the helm since its opening. The menu is packed with an ever-changing array of dishes using fantastic local produce. However, there is one dish that has held steady over the years and the secret behind its success is in its simplicity and an exceptional quality cut of meat. Perfectly paired with the 2006 Plexus SGM that the team at Vintners are currently offering.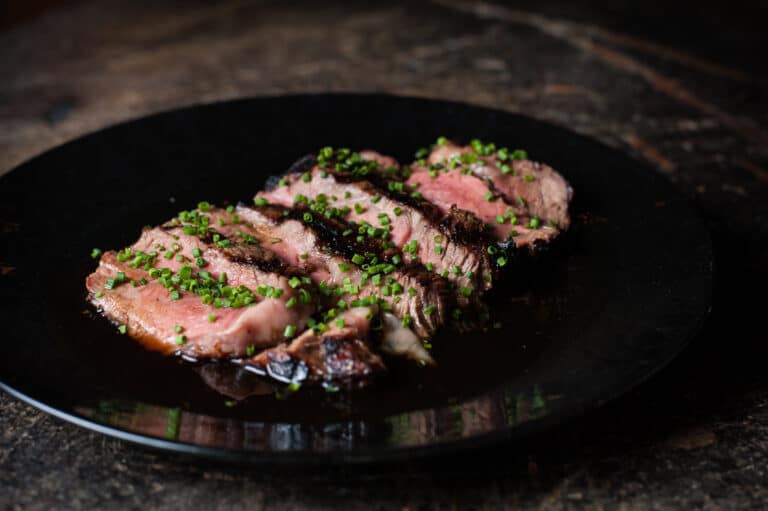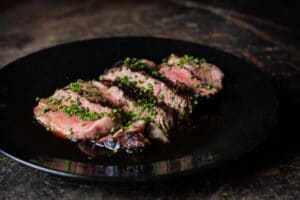 Scotch Fillet with Shoyu Dressing.
The best quality Scotch fillet that you can purchase, cooked to your liking (medium rare recommended) and well-rested.
Slice the Scotch across the grain and dress with the Shoyu dressing (at room temperature) and top with finely chopped chives, serve with french fries and a glass of Plexus SGM.
Shoyu Dressing
Ingredients
½ cup mirin (sweet cooking wine)

¼ cup sake (rice wine)

¼ cup shoyu (soy sauce)

2 tablespoons sugar

4 garlic cloves, peeled

2 akatogarashi (Japanese dried red chilli peppers)
Directions
Pour the mirin and sake into a small saucepan, set it over medium heat, and bring to a simmer. Add the shoyu, sugar, garlic, and red chilli pepper and cook, stirring to dissolve the sugar. Turn the heat to low and cook for 8 minutes. Remove the saucepan from the heat and cool. Store the sauce in a clean jar with a lid. The next day, remove the garlic (but leave the red chilli pepper). The sauce keeps several months in the refrigerator.