The fantastic team at Orso Kensington recently hosted team JDW for one of their regular and much loved Winemakers Lunches. The menu was spectacular and perfectly matched to a selection of wines including some delicious treats from the cellar. The Roast Lamb Rump was the winner on the day and perfectly paired with the Annexus Grenache.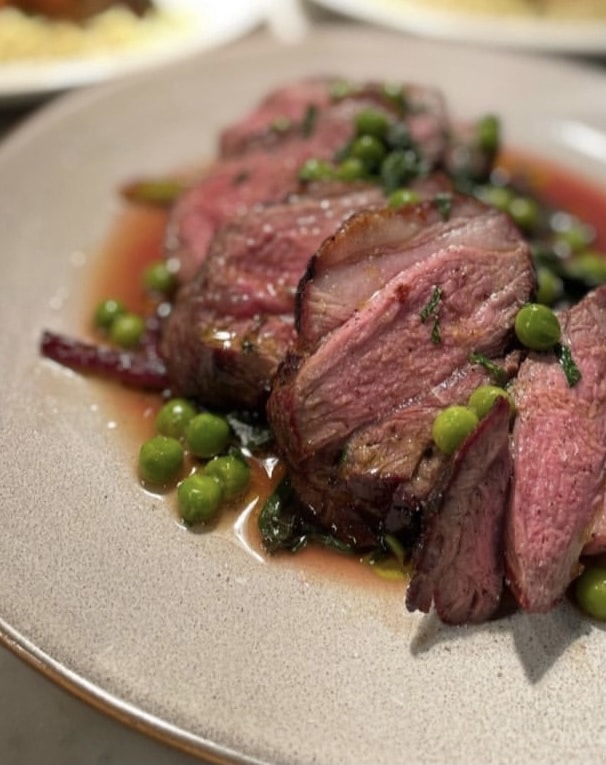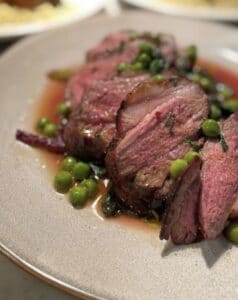 Lamb rump, beetroot leaves, jus, peas, mint.
Serves 4
Ingredients
4 Lamb rump, with cap on.
1 bunch beetroot leaves, roughly chopped
2cloves garlic, finely chopped
150g green peas
50g butter
A few mint leaves, torn
For the jus
1 litre good quality chicken stock
100ml red wine
6 sprigs thyme
Pre heat your oven to 180ºC.
To make the jus, bring the wine up to the boil in a large sauce pan, boil for 1 minute. Add the thyme and chicken stock, reduce to about 300ml. set a side.
To cook the lamb, heat a skillet over a medium. Season the lamb generously with salt. heat 3 tbsp vegetable oil, then place the lamb carefully fat side down in to the skillet. Cook for 2 minutes on medium heat then transfer the pan to the oven, cook for 10-12 minutes. Transfer to plate to rest for at least 15 minutes. Keep warm. Alternatively, you can cook the lamb over charcoal in a bbq, using to same method.
To cook the beetroot leaves
Fry the garlic in oil for 30 seconds add the beetroot leaves and fry until soft.
To assemble
Warm the jus over a medium heat, add the butter stirring to emulsify, add the peas and mint, season with salt and a squeeze of fresh lemon juice. Place lamb in the oven for 1 minute to warm through, slice the lamb and arrange over the beetroot leaves, pour over the sauce and finish with fresh cracked black pepper.